The Town of Plattsburgh is home to the local food icon: The Michigan Dog
A Michigan Dog, or a Michigan as it is commonly referred to, is traditionally a natural casing hot dog in a split top bun, topped with a specially seasoned meat sauce, served with optional mustard and onions which you can order on top or buried under the sauce.
Michigans arrived in Plattsburgh sometime in the 1920s. Although we aren't sure of their exact origin, everyone has their own story of where the Michigan came from.
However, no matter where it started, the Michigan is "buried" in Plattsburgh culture.
July is Michigan Month in the Town of Plattsburgh. To celebrate this landmark hot dog, the Town of Plattsburgh does an annual Michigan Passport that can be used at all four Michigan restaurants in the Town of Plattsburgh: Gus' Red Hots, Ronnie's Michigan Stand, Clare & Carl's, and McSweeney's Red Hots. To get your passport, stop by the Town Hall, the Chamber of Commerce, or any of the participating restaurants between 6/30 and 7/31.
The first 25 passport holders to complete and return their passport to Town Hall will receive a free Michigan t-shirt. All participants who return their fully completed passport will receive a Michigan bumper sticker. Deadline to return your passport is August 6th. NEW: All who return their completed Michigan Month Passport will be entered into a drawing to win one of four prizes!
Returning in 2023, is the Michigan Mile Fun Run, July 19th in Cadyville Park at 6pm. Register at the event! The Town will be providing Michigan recipe cards that include Traditional Michigans, Healthier Michigans, and Vegan Michigans. We want everyone to enjoy this tasty treat!
Hungry for History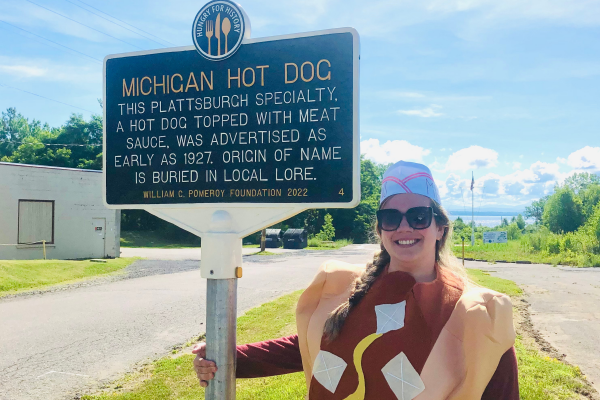 In 2022, the William G. Pomeroy Foundation awarded the Town of Plattsburgh a Hungry for History marker for the Michigan Hot Dog.
The sign reads: Michigan Hot Dog, This Plattsburgh Specialty, A Hot Dog Topped With Meat Sauce, Was Advertised As Early As 1927. Origin of Name Is Buried In Local Lore.
The Hungry for History® grant program celebrates America's food history by telling the stories of local and regional food specialties across the United States. This program is designed to commemorate significant food dishes created prior to 1970 and the role they played in defining American culture and forging community identity. Hungry for History is intended to help communities nationwide put the spotlight on their renowned locally and regionally created food dishes with historic roadside markers. William G. Pomeroy Foundation: Michigan Hot Dog
2023 T-Shirt Design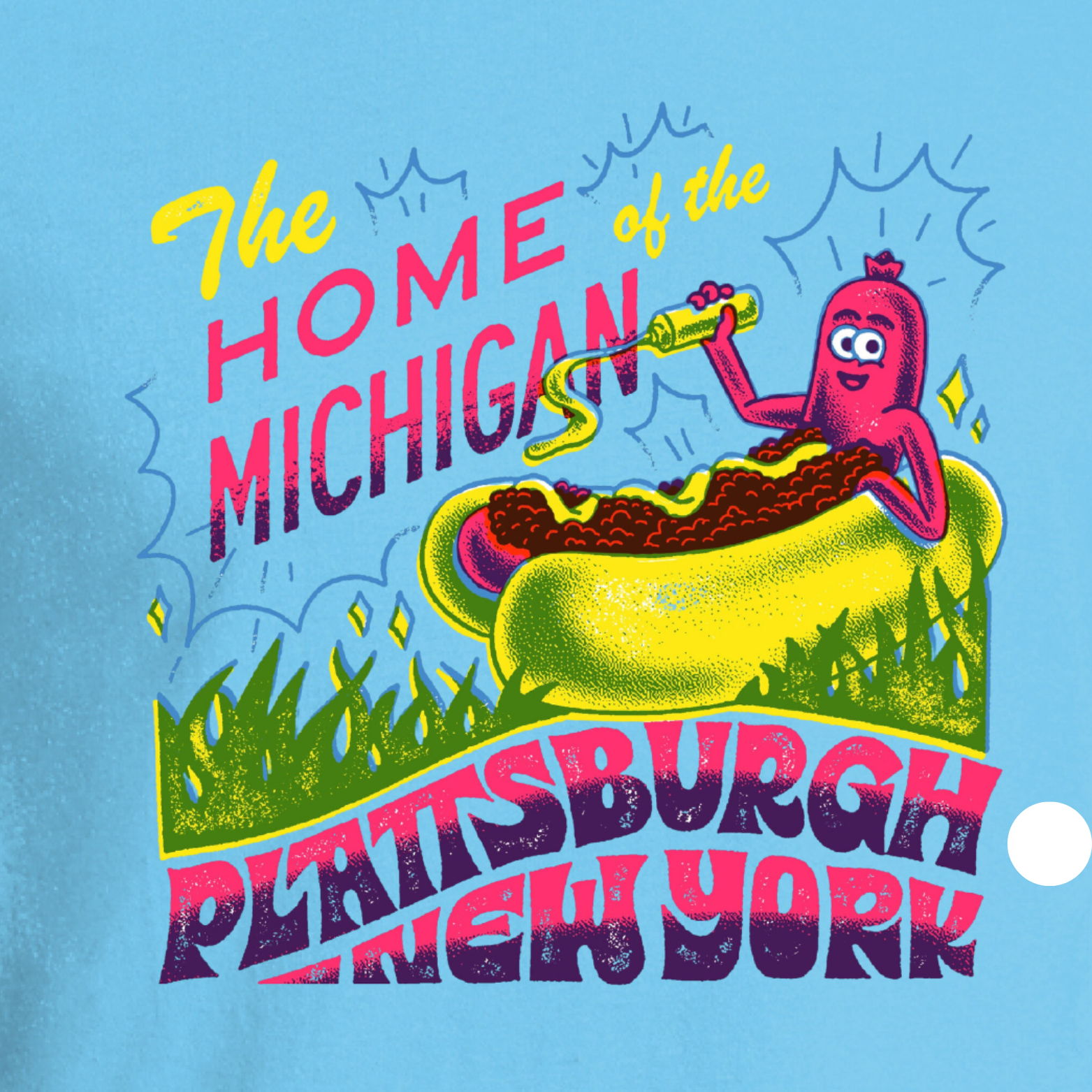 The winner of the 2023 Michigan Month T-Shirt Design Contest is Vincent Conti (SUNY Plattsburgh Alum) of Brooklyn, NY.
Not local to Plattsburgh? Make your own Michigans!